Clearout begins
One of many bookcases that need emptying.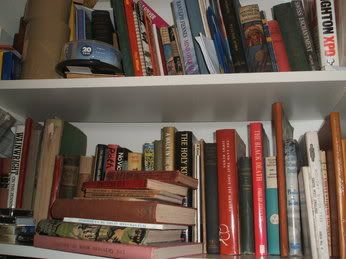 One of those days today, when you set out to do a number of things, and get very few of them done. The plan was to do some more ruthless tidying. Ended up sorting out my malfunctioning phone with the service provider for most of the morning.
Unrealistic expectations, or easily distracted.....
Ebay kindly emailed me the other day to inform of a cheap listing day on Thursday, so I've taken a few pictures, and started writing out the descriptions. I've already discovered a couple of books which list elsewhere for over $100.
Even more important I suppose is that I've junked some books that even a charity shop wouldn't want. I hate throwing books away, but it just seems the best thing to do. We have boxes that have not been emptied since we moved here over 3 years ago, something that won't be repeated again.
My auctions can be found
here
as from Thursday.
Hopefully we will not have too much stuff to put into storage when we leave here.