Alpe D'Huez Fixed.
I like lots of cyclists have always fancied my chances against this legendary climb.
Unfortunately the only bikes I have on this trip are the Scandal and my beefed up Commencal for the Mega at the end of the week.
The lowest gear I could find in my box was equivalent to a roadie 39:23.
Would it be low enough, or would I be reduced to walking ?
Ann and the kids left me at the bottom of the hill by the roundabout. Within minutes the gradient kicked upwards. No warming up on this ride 14.5 km to the top, with an average gradient of 8ish%, and 21 hairpin bends, and this is the first of them.
I see my first target as I approach the second bend,a roadie who is having a steady ride up the hill. I by contrast am on the edge of my game unable to sit down, just stomping on the pedals, can't go slower, can't go faster.
I pass him, and shortly after, am myself passed by a roadie in somewhat more of a hurry. I try to tag on, and almost immediately go into oxygen debt.
I realise that trying to race people up this hill is going to result in disaster, so I settle into a rhythm, and vow to save any 'racing' for the last couple of bends.
Ann and the kids were going to cheer and take pics, and heading towards bend 10, I could hear the kids ringing the cow bells they have for use at races and the like.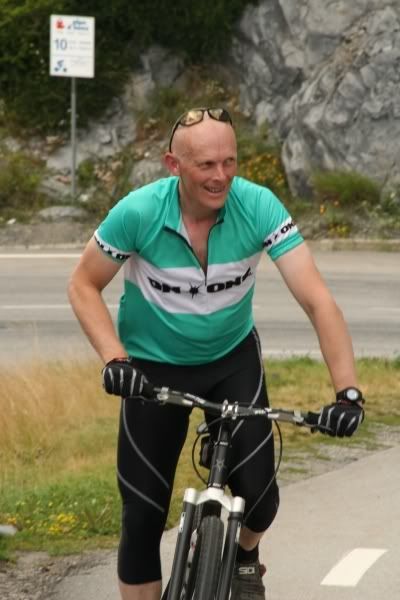 Go daddy go, or something like it they shouted as I headed by. Ace to have the encouragement.
There were a couple of sections that lulled me into thinking that the worst was over, but of course there was always a little extra raise in gradient to show me that it was not so.
With 4 bends to go I looked at my watch, and though realising I was going to be outside Pantani's record, I might just get in under twice his time.
Head down, I dug deep.
1hour 14 minutes 58 seconds.