Tour Mont Blanc Day 2.
A more leisurely start to day 2. Away for 8 after a good nights rest.
Up towards Ferret and a sign for TMB shortly followed by a sign for la Peula.
It was steep from the start, but there were lots of walkers to chat with to numb the pain. Progress was painfully slow, including a sketchy 50 degree traverse across a shale slope. The people who I'd chatted with were now a long way up the hill in front. Any trace of a path had gone. Carrying the bike was now the only option. Up I headed for another 10 mins before stopping. This was like Simon Fell with shrubs. Retreat, the only option.
It seems in retrospect that though signed as TMB this was a variant. Not to worry, only 3 hours wasted.
Some time later I did get to la Peula. A coke and a tart apricot tart, my reward.
From there twas mostly rideable up to the Grand Col Ferret. Followed by another good descent, though mind the drainage ditches. A new country, and new driving habits, welcome to Italy.
Fast road down to Entreves, and then the climb commences into Val Veni, and on towards the Col de la Seigne.
Sore arse still, making it's self painfully apparent by now. Stunning views firstly of the Brenva glacier, and then towards the Col.
Late afternoon storms, are popular round these parts, and as I approached the Elisabetta Refuge, one started to rip.
I sprinted for shelter and avoided the worst of it. Behold though what is this a luxurious bivvy spot, that was left swept clean by another. After 10 1/2 hours on the go, I was tempted.
10 mins later the storm, what storm?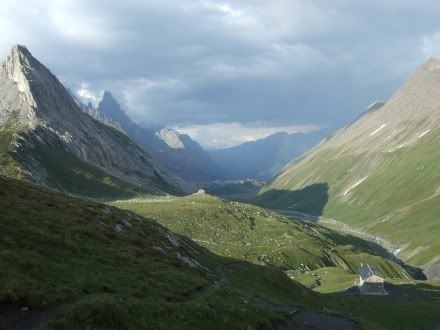 Sunshine, long shadows, and loads of Marmots. Pushing hard now towards the Col, and puffing a bit with the altitude.
Col de la Seigne 2516 metres attained at 19:27. Destination the restaurant at les Chapieux 13ish km away with 1800 of descent.
Having narrowly missed a Marmot at 53 kph on the descent, I was seated for dinner at 20:05.