Pretty things.
We left the campsite near Fortuna and headed for Aguilas via an extended shopping trip in Murcia, DVD's needed you see. On parting with Rich, Helen and kiddies, we'd arranged that should we find a nice site we'd get in touch and rendezvous. Anyway, we arrived at the campsite early evening, and left early next morning. Nothing wrong with the site, just not a keeper, they even gave us a bottle of wine as we left (nice gesture, crap wine though).
Along the coast we went looking for another place to stay. Some areas of big development down here,though some really pretty parts too. We parked up for lunch at a pretty spot backing onto the beach, and were approached by an English chap who gave us a card for his nearby campsite. He gave us verbal directions on how to get there, though of course these were immediately forgotten, at least in part anyway. Oh, but did I mention a super cheap price per night.
While enroute there we discovered another site which looked great, and I mean great compared to some of the other places we'd stayed. Though we'd have to wait nearly 3 hours for the place to re-open to get in as their reception was closed, and the other fella seemed nice, so we resumed our search for the other place, which we eventually found.
We pulled in through the half open rusty double gates, and were about to turn round and head of again, not a camper/caravan or tent to be seen, just a large expanse of gravel and a couple of hedges, when he came to personally greet us.
Bothe he and his lady were very personable, and of course we stayed there. Facilities were basic, though for about half the price of most sites I suppose good value ? 2 days were spent there. We had email from Rich and Helen that they were at site/place called Le Manga which was sh1te.
On the second day we had a family bike ride to the nearby Pueblo Mojacar. A Gorgeous old village, with white painted houses built into/onto the steep hillside, and as it turned out too steep in places for Tom's trailer which attempted on a couple of occasions to jackknife Ann's bike.
Our kids needed a playground, and we needed a bar. So we relocated to the nice campsite we'd seen previously. Small site with spacious pitches, playground, views of the sea, and only 20 mins walk from a pretty hill village with restaurants and shops. Nice. No, really nice.
Shortly after our arrival a camper pulls by ours, Rich sticks his head out the window and says hello. Skye is elated."her friends are here".
A funny coincidence.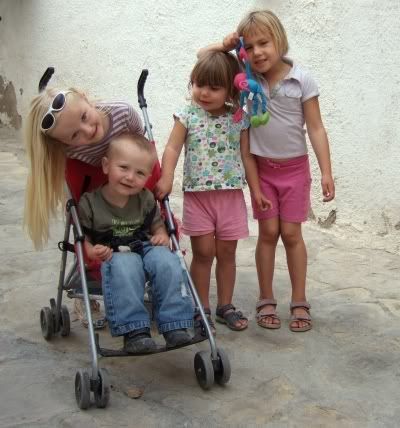 Back up to Mojacar today with all the kids and Helen, to have another look round, and to find a post offIce, and our second BBQ in two nights.
Happy Birthday to Mum and Elliott.